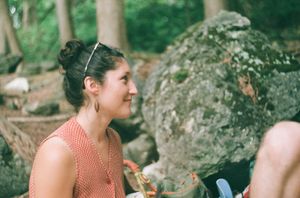 Earth Advocate:
As I continue on my path as a musician, I'm finding it more and more integral to be using my artistic platform in responsible ways. I feel indebted to the land, and am committed to being a steward of it. This sort of commitment percolates through all aspects of my life, not least of which involves my musical self. From the way I carry myself on tour, to the content of my songs, to the conversations I have with fans, to how I manufacture albums and merchandise: environmental activism is a critical component of my career. I am always looking to learn more, to do better, and to empower others to dig deeper into their own sustainability journeys. 
One of the ways I'm focussing this energy lately is through my volunteer work with the Canadian chapter of Music Declares Emergency, an international organization aiming to transform the music industry into a sustainable community. To learn more about MDE, and to sign the declaration (open to music fans, industry personnel, artists... everyone, really!) please head to https://musicdeclares.net/ca/en. Help spread the word by following us on Facebook / Twitter / Instagram. 
As always, I am keen to collaborate. If there's any way I can add some love & light to your climate-focussed event / project, please reach out! 
Helpful Resources: 
 Shake Up The Establishment 
 Climate Pledge Collective
 TerraCycle
 Native Pollinator Research Lab
 Canadian Climate Songs Playlist
 Julie's Bicycle
 Creative Green Tools
 Fashion Takes Action
 How To Talk To Children About the Climate Crisis - Liv's webinar notes
 Digital Carbon Footprint - Liv's reading list